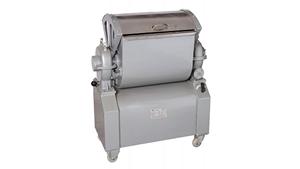 Application:
The horizontal dough mixer is suitable for hotels, bakeries, canteens and other food processing purposes involving flour. It can also be used for raw material mixing in pharmaceutical factories and chemical plants.
Parameters:
Model
Rated Voltage V
Mixing Limited
kg
Time of Mixing
min
Speed of stirrer
min
Type of Mixing motor
Power of mixing motor kw
Type of Turning motor
Power of Turning motor KW
Size of machine
mm
Weight
kg
HYW-25(J)(H)
220/380
25
3-10
22
YL90L-5
1.5
Y80M-4
0.75
880×460×890
170
HYW-50(J)(H)
380
50
3-10
22
Y100L2-4
3
Y80M-4
0.75
1170×650×1110
315
HYW-75(J)(H)
380
75
3-10
22
Y112M-4
4
Y80M-4
0.75
1170×700×1200
405
HYW-100(J)(H)
380
100
3-10
22
Y112M-4
5
Y80M-4
0.75
1170×700×1200
405
Features:
1. The horizontal dough mixer uses a copper turbine reducer as the replacement for traditional speed reducers that are easily damaged.
2. This mixer achieves automatic discharging.
3. The parts of the mixer that come into direct contact with the flour or food material are made a specially treated stainless steel that meets national sanitation standards.
---
Simple dough mixer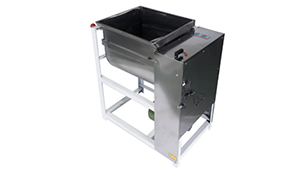 Application:
The simple dough mixer can be used for dough mixing for making steamed buns, pancakes, fried bread sticks, steamed stuffed buns, desserts, biscuits, breads, cakes and more.
Parameters:
Model: HG-15
Capacity: 12.5kg
Size: 640×480×800 mm
Voltage: 220V
Power: 1.5kw
Model: HG-25
Capacity: 25kg
Size: 755×480×980 mm
Voltage: 220V
Power: 2.2kw
Features:
The simple dough mixer uses chain transmission, gear structure and drip lubrication, so that it is easy to operate with low noise levels.
Honglian offers a wide range of commercial food processing equipment with custom design service. Here as a horizontal dough mixer manufacturer and bakery equipment supplier, we are offering kitchen and restaurant equipment, such as bakery ovens, food frying machine and commercial roasting equipment. From design, manufacture to quality control, our company offers top priority dough mixer and customized food machinery upon request.