Food Preparation Breading Table
Parameters: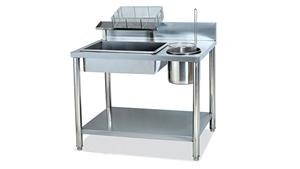 GU-800
Size: 700*800*890 mm
Net Weight: 28 kg
---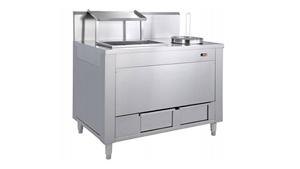 GU-1200
Size: 1200*750*1100 mm
Power: 0.18 KW
Voltage: 220V
Net Weight: 60kg
---
GU-1500
Size: 1150*450*890 mm
Power: 0.35 KW
Voltage: 220V
Net Weight: 67kg
Features:
1. This type of food preparation breading table uses an electric drive, ensuring vibration is uniform with low noise levels.
2. The top of the food preparation breading table is responsible for food breading while the lower part is responsible for flour sifting, thus assisting chefs in keeping their space clean. Operation is easy, with automatic separation of ground flour from crude flour.
3. The breading table uses an electric motor that has an automatic power off for overload protection, thus keeping the table from becoming damaged.
Honglian offers a wide range of commercial food processing equipment with custom design service. Here as a food preparation breading table manufacturer and supplier, we are offering kitchen and restaurant equipment, such as bakery ovens, food frying machine and commercial roasting equipment. From design, manufacture to quality control, our company offers top priority food preparation table and customized food machinery upon request.